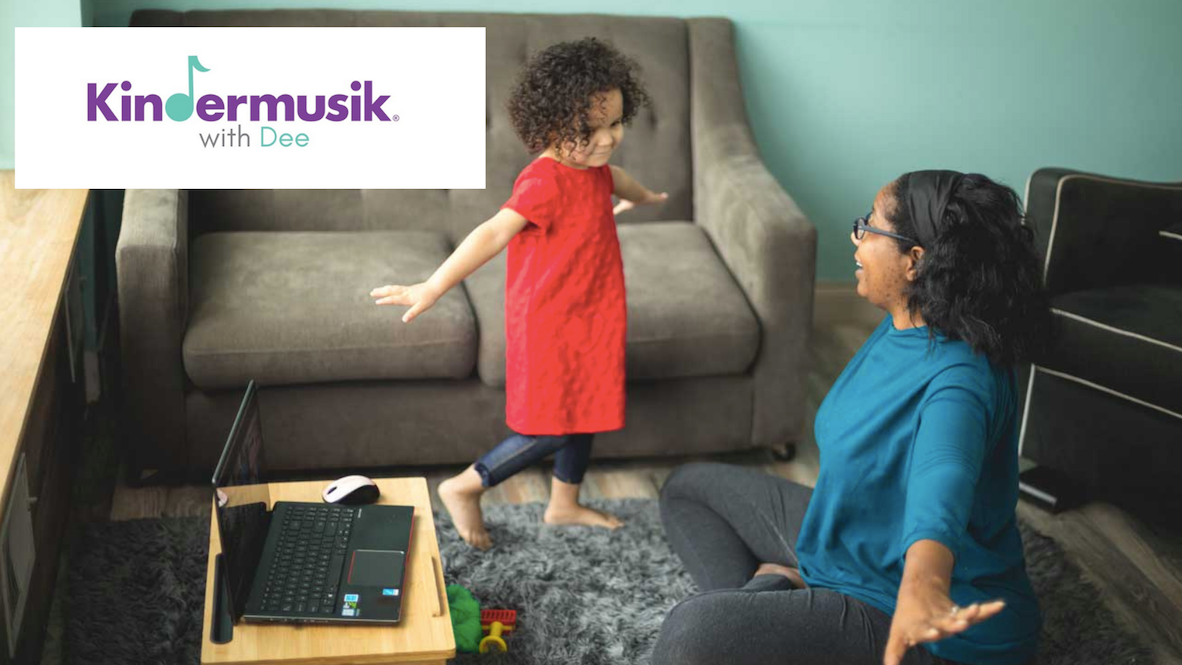 with just the right amount of stimulating play, musical exploration, and simply joyful moments!
Schedule Your Session Today!
Due to COVID-19, Kindermusik with Dee is delighted to be offering Virtual classes this semester!
Benefits of Virtual classes:
~It's convenient. Keep those sweatpants on! No bundling up in heavy layers to tote your kiddos to class.

~It's safe. No struggling with masks, sharing instruments and worrying when you hear coughing from the kid with allergies.

~It promotes whole family involvement. Get mom, dad, siblings or extended family singing, dancing and snuggling along with your little one.

~It provides stability with wonderful Kindermusik rituals your family can incorporate into daily routines.

~It's fun! Let's face it, we could all use more of that.

~ It includes a 30 day "Smiles and Satisfaction" guarantee. If you are not satisfied after 30 days, your tuition is refunded minus your home materials (which are yours to keep).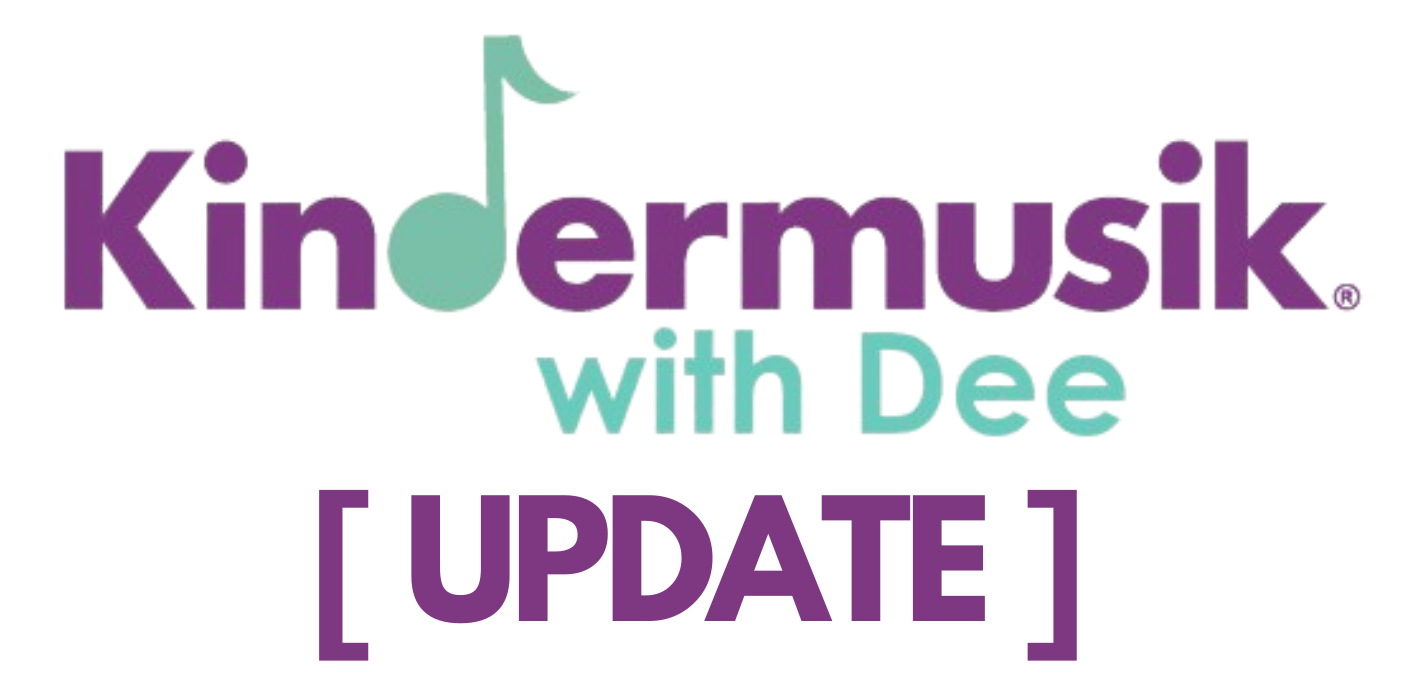 Each week, you can nurture your little one's energy and creativity in a Kindermusik class designed for you! As you play instruments, sing, and dance, you'll uncover an engaging musical world while building your child's confidence, self-control, and early language skills!
From the moment you became a parent, you wanted the best for your child. In class, we engage your child in music and movement activities that also promote language, social and emotional skills, early math and early literacy, physical coordination, creativity, and more. Plus, your child will learn basic music vocabulary and notation —all setting the stage for future school success and formal music lessons. Parents join the fun for the final activities.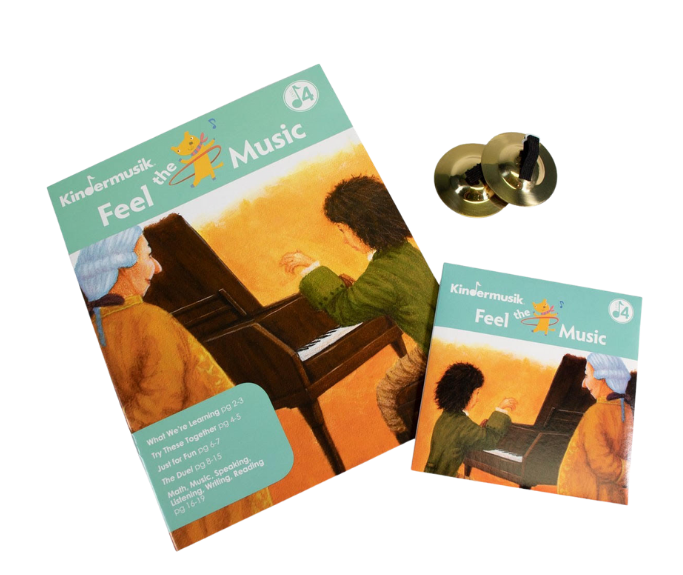 Kindermusik materials include:
Magazine-style Family Guide with story, Home CD, and a pair of finger cymbals.
MULTI-AGE CLASS: (12m-4years)
FEBRUARY 16-MAY 5 (12 WEEK SESSION)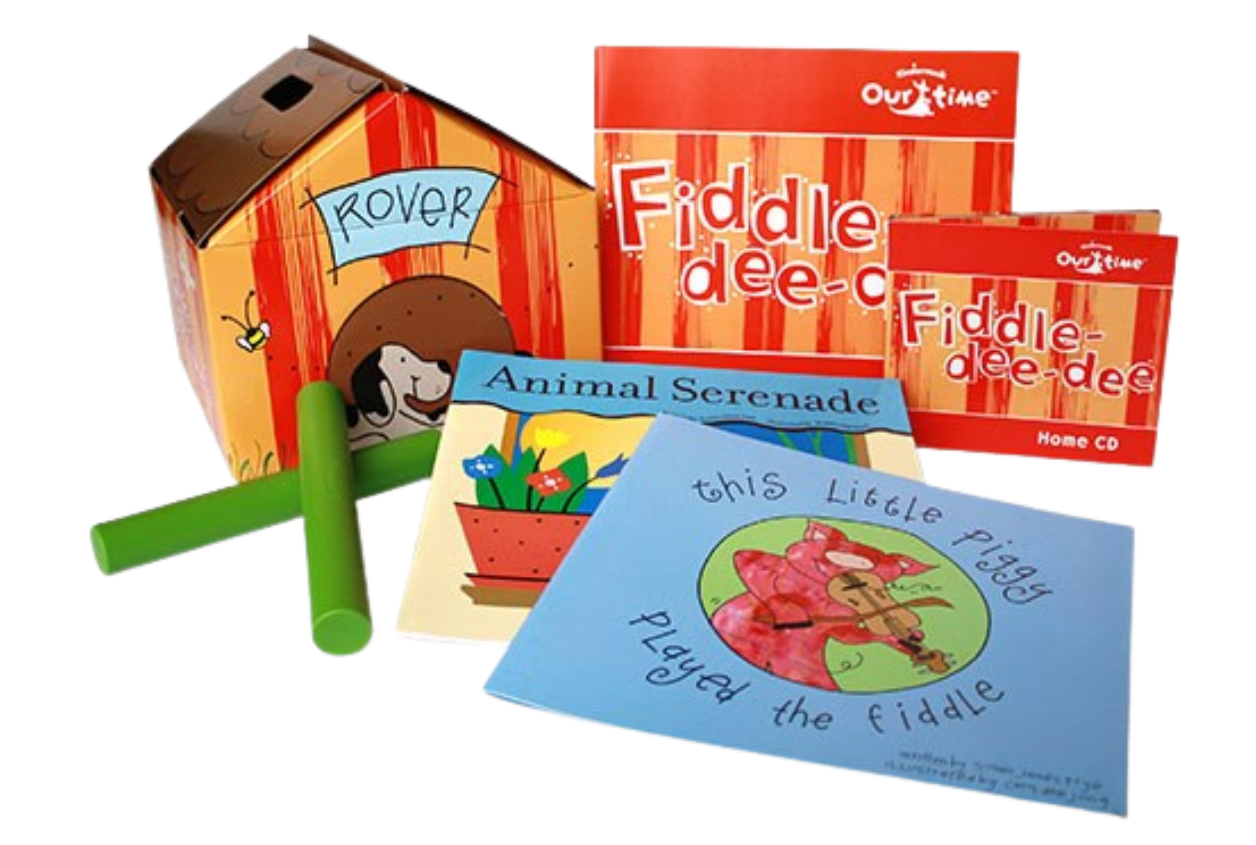 The animal theme rules supreme in these lessons. We'll, walk, run, and roll over with Rover, do a rabbit fingerplay, and learn about a mouse that runs up and down the clock! We'll also explore fast and slow movements, and play the stop-and-go games that everyone loves. Not only are they fun, but they also help develop essential life skills, such as inhibitory control and working memory.

The Kindermusik Experience
See why children of all ages LOVE Kindermusik With Dee!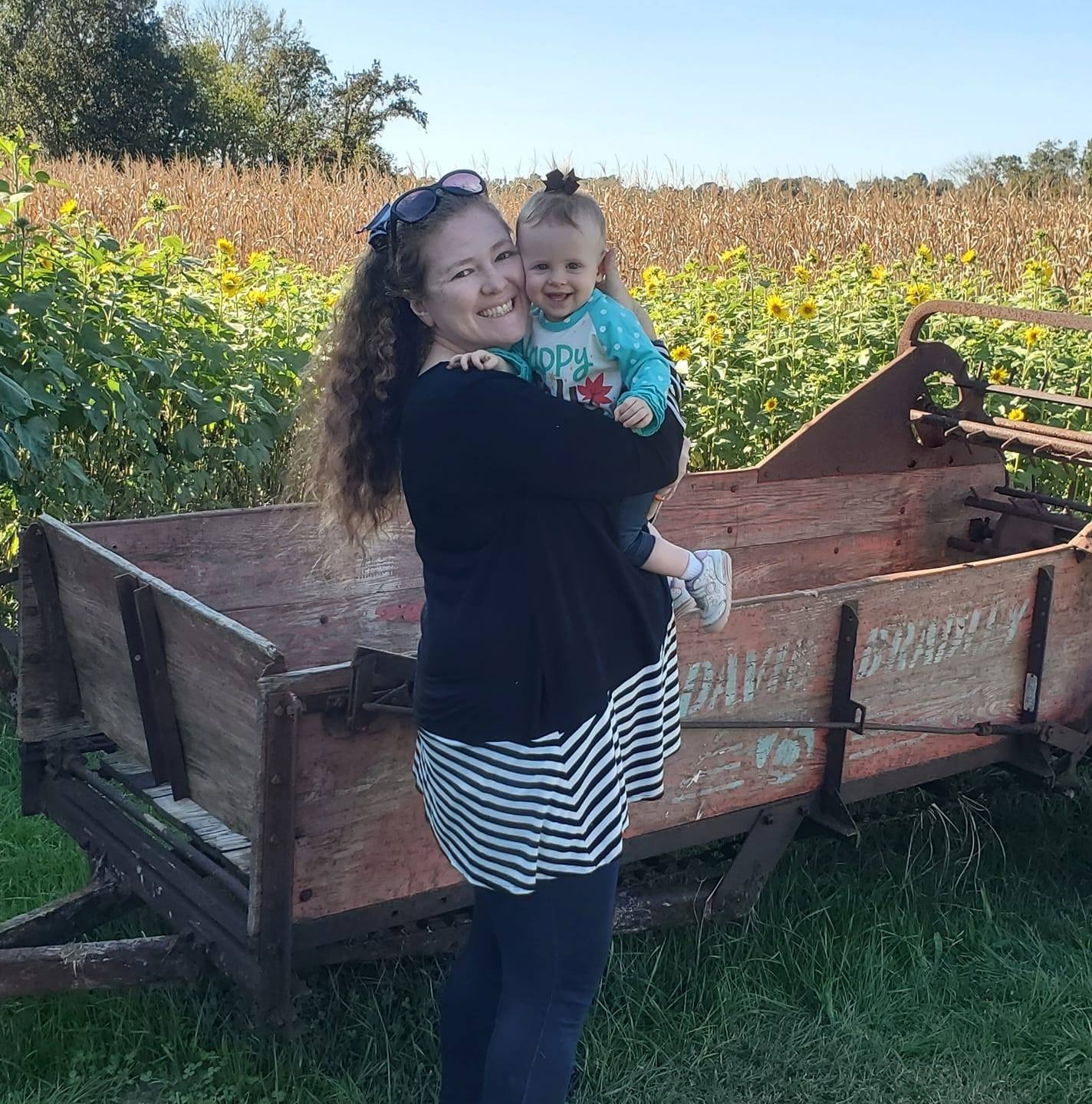 My daughter loves kindermusik!
Jami T.
"Mrs. Dee is so great with the kids! My daughter loves to watch and smile at her. She's great at explaining why dance and music is important to a child's development. It's easy to go home and practice what she says."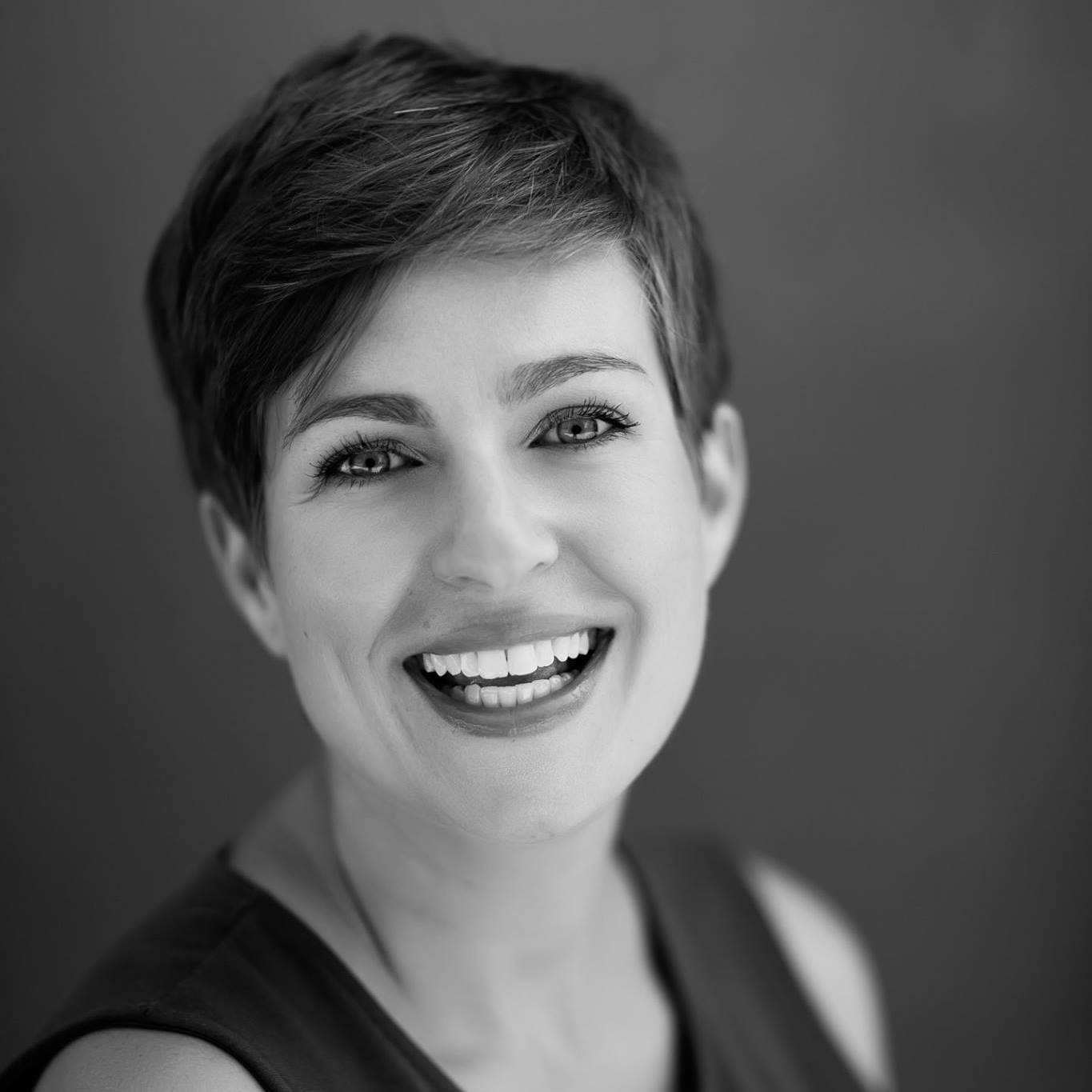 FUN!
Sara R.
​​​​​​​
"We just enrolled in our third Kindermusik class. My 19 month old LOVES Kindermusik and Miss Dee! It's such a fun, educational time."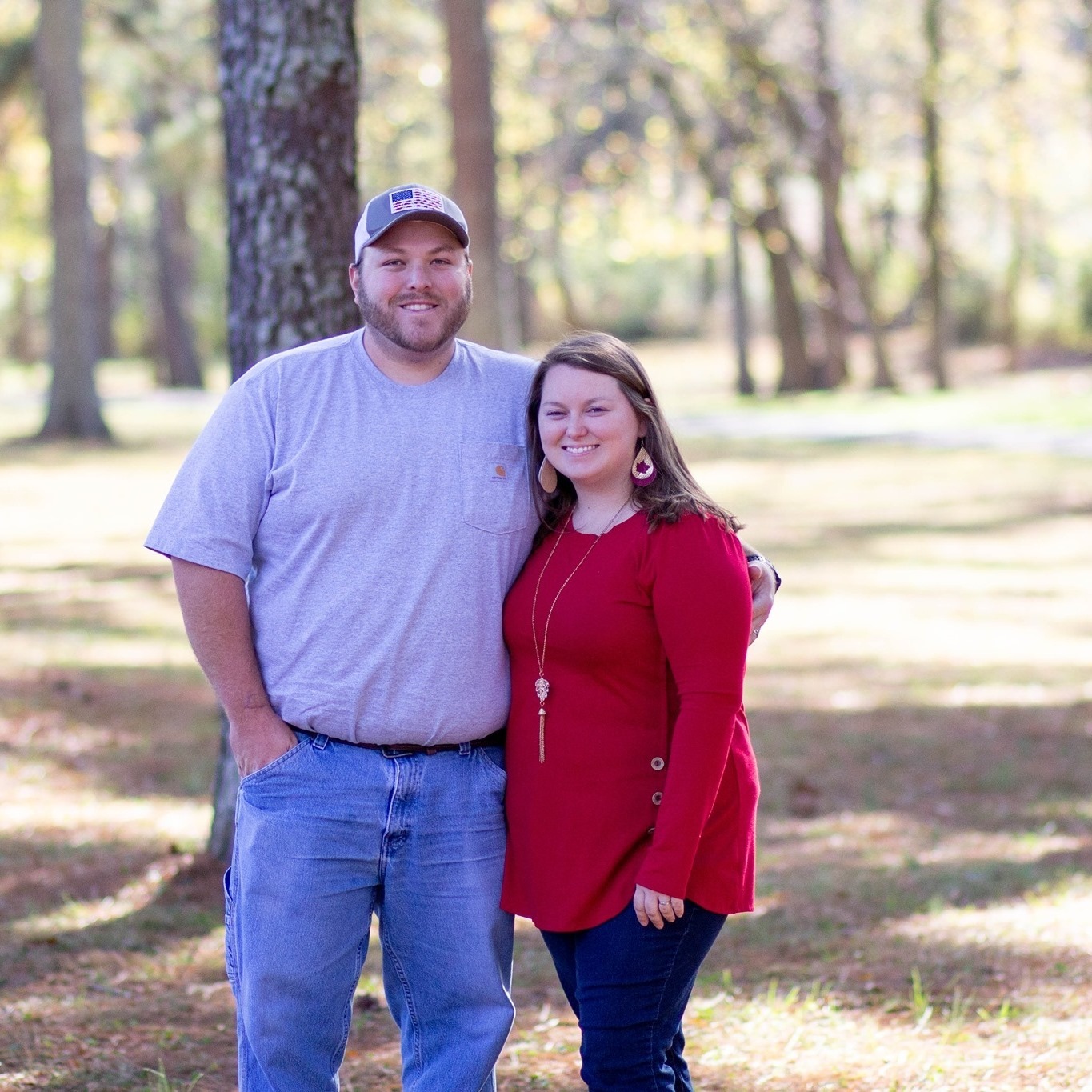 We love Kindermusik with Dee!


Jen F.
"A wonderful bonding time that your child will love and look forward to each week. Mrs. Dee is very knowledgeable about development, and she truly cares about her students."

Spots Are Filling Up.
TRY A FREE CLASS TODAY!
Our Kindermusik With Dee Team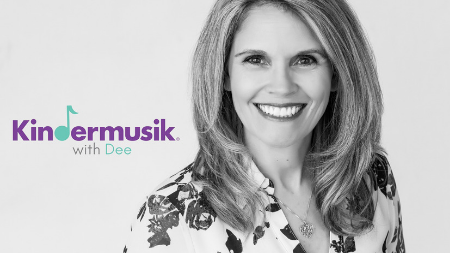 Dee Lancaster, affectionately named "Mrs. Dee," by her students, is proud to be the director and owner of Kindermusik with Dee. She has an immense love for children and families and has taken great delight in sharing the joys of 'learning through music' to families in the Cleveland Bradley County area for the past 17 years.
​​​​​​​
Dee is a graduate of Lee University and holds a BS degree in Early Childhood Studies. When not in the classroom Mrs. Dee enjoys spending time with her husband, adult children and her four amazing grandchildren.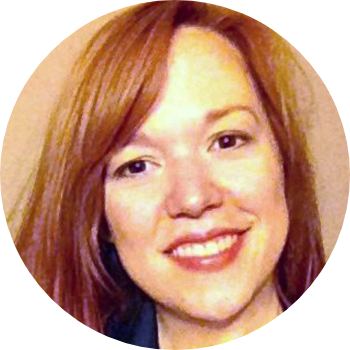 Melissa Dasher
A graduate of the Lee University School of Music where she received her Bachelor of Fine Arts in Music Performance, Melissa has taught private voice for over 6 years and received her Kindermusik license in 2014.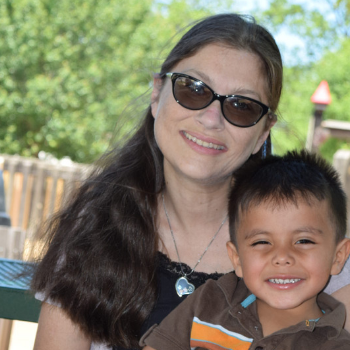 Sandra Lapham


A graduate from Southern Adventist University with a Bachelor of Arts in Education & Psychology K-8, Sandra completed her Kindermusik training and became a licensed Kindermusik educator in August 2017.
Each Class Crafted With Your Child In Mind
Our Kindermusik School curriculum has been specifically crafted for the daycare/preschool environment.

By using music we teach an understanding of literacy and language fundamentals to eager children just beginning their education.
Schedule Your Session Today!